With only three releases on Spotify and just one playlist entry, Israeli DJ Rafael has achieved top engagement rates and gained new fans all over the world.
Listeners from 92 countries have streamed his music over half-million times. 
I caught up with Rafael for an interview to learn about and share his amazing story of how getting just one song added to a single playlist boosted his engagement and fandom on Spotify in a way he never imagined.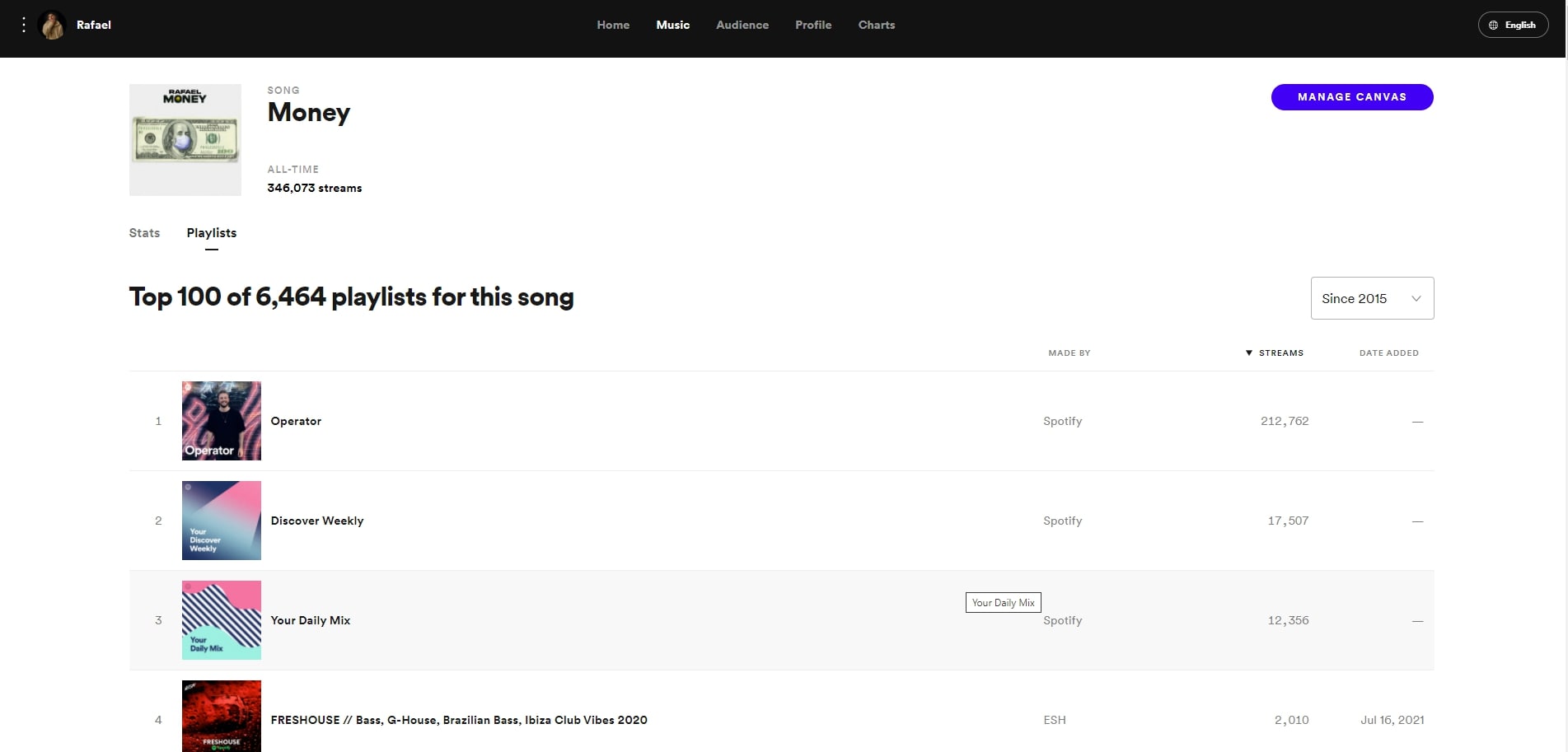 Rafael and the power of playlisting
Tell us a little about yourself. Who are you? What is your goal in music?
My name is Liav Rafael. I've been a DJ for a decade now, and I started producing under the name Rafael two years ago. The main genres I focus on are house, minimal house, tech house, and anything with a groove.
Some artists such as ESH and Reelow have supported my music, and now I'm set to start playing gigs abroad. My main targets and Spain and the UK.
Good luck! How did you start building your name on Spotify—did you get lots of streams right off? 
No, actually. My first release was even linked to another Rafael by mistake.
It started really small. I first got a small boost from paid ads I targeted to the right audience, and from there it slowly accelerated. People followed me on social media. That's how I managed to create a fanbase of listeners who love my music and get updates on my releases.
And then your music started getting onto playlists.
Yes. My first track on Spotify was a collaboration with R-CHY, who already had some music live. He was the one to introduce me to paid ads, playlisting, the importance of gaining Spotify followers, and what I should do to succeed in the music world.
At first, the track got onto personal playlists of listeners who liked it, and then we got added to some bigger playlists. But of course, our dream was to get our music on an editorial playlist.
And? Did it happen?
Fortunately for me, it did! But unfortunately for R-CHY, it was not the track we collaborated on. Actually it's a funny story.
We're eager to hear it.
In May 2020 I independently released my track "MONEY". As usual, I ran some ads, tried to market it the best I could, and it reached around 20K streams.
In August, R-CHY and I released our second collaboration, "TACO". A couple of days after the release he came to my studio and we worked together on marketing it. As you'd expect from two artists who just released a track, Spotify for Artists was open on the screen, and every now and then we had to give a glance at how many listeners we had.
And then something really funny happened.
We looked at my user, and suddenly we saw that around 60-70 people are currently listening. It didn't change for about an hour. At that moment, we didn't quite realize what's going on. R-CHY started shouting "We got TACO on editorial, OMG!" and we got really excited.
Then, he opened his Spotify for Artists and saw he has only 20 simultaneous listeners, while I have 60. We didn't get what's happening, but then we checked and found out that "MONEY" (which was released months before) was just added to an official Spotify playlist called Operator, and it was even placed first!
At first, when it happened, I didn't fully realize the meaning and the value of this placement. But for two months with the track at the 1st place on that playlist, I was getting around 5K streams every day—not only for this song but also other songs of mine. I saw enormous growth in fans and engagement on every platform, and I started receiving videos from all around the world from people who loved the track.
At this point, I finally realized the power and influence Spotify has.
The track was on the playlist for about four months and today has almost 350K streams.
Wow, that's amazing! How does it feel to see your track blow up like this?
It was amazing, though kind of hard to get it at first. I wouldn't have expected to get such a great response from people in other countries.
After this track got exposed to so many people, I saw videos of DJs playing it, and I also got great feedback. Again, it's important to remember that I was doing my first steps in music production—this was only my third track.
The uplifting effect continued with my other releases. I saw that eventually, it's the same people who engage with my content on social media, listen to my music, and share it with others. I try to take note of this as much as possible and thank the people with whom I started my way. It's very important to me because I believe I owe them the boost and support they gave me and my music.
We love to hear stories like this one. The exposure and people that your track reached through playlists must also have created new fan bases for you in different parts of the world, haven't they? Where do you have the most listeners?
Right now I have a lot of listeners in the US, where this editorial playlist is popular. But after the exposure from that playlist, I now have listeners in almost every country in the world.
When I posted my "2020 artist wrapped", Spotify's yearly summary, I got a message from a DJ from Brazil who asked how I managed to get so many streams, so I explained the process and what happened to him.
Well, That's insane, getting these numbers with only three releases. To conclude, do you have any tips for creators and artists who'd like to gain exposure and reach new places?
The best tip I can give creators is just to believe in yourself. Just make lots of good music and send it to relevant people in every field—whether it's DJs, influencers, or Spotify playlist curators. That's how you "wake" the algorithm and make it notice your music.
You see, there are no rules for it. I've never imagined that such a thing could happen in such a short period of time. So just believe in yourself.